Welcome to the Riverhill POA
We are a voluntary HOA serving the Riverhill Community. Our website is dedicated to keeping our members informed and involved in our efforts. Please use the links at the top of this page for community information, contact instructions, and important forms and regulations.
Join Us
Make your voice heard and stay up to date with the Riverhill POA.
Our group protects the quality of life and the community for all Riverhill property owners.
Membership Annual Meeting, October 18, 5:30!
Our annual meeting will be at the Riverhill CC on October 18th, social at 5:30, business at 6PM. All of the information and forms that you need can be found by clicking on the button below!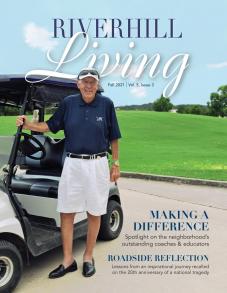 Riverhill Living
A unique lifestyle magazine for Riverhill residents
We've always known that coaches and teachers - of all varieties - are a critical part of our success. And the success of our children and grandchildren. So open up this quarter's issue and learn about a few of those very special Riverhill residents that have helped launch so many. Learn about the July and August Yard of the Month winners, and everything you need to know about the upcoming annual meeting!
Click the cover image to your left to read the full issue online.
Advertise With Us