Welcome to the Riverhill POA
We are a voluntary HOA serving the Riverhill Community. Our website is dedicated to keeping our members informed and involved in our efforts. Please use the links at the top of this page for community information, contact instructions, and important forms and regulations.
Join Us
Make your voice heard and stay up to date with the Riverhill POA.
Our group protects the quality of life and the community for all Riverhill property owners.
Important Zoning Meeting!
There will be a special meeting concerning the proposed development off of Highway 16, south of Riverhill. The meeting will be at the Riverhill CC mansion at 6PM. All Riverhill residents are invited. We will be sharing the current status, the actions taken to date, and suggested next steps in addressing this development that is sure to impact Riverhill residents, particularly those on or near Riverhill Blvd. Click on the blue button below for more information and associated documents.
Please plan on attending.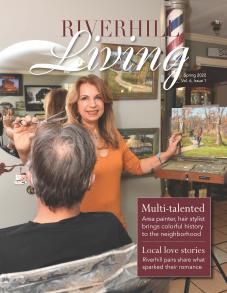 Riverhill Living
A unique lifestyle magazine for Riverhill residents
The new edition is here! And it is all about the residents of Riverhill. Learn about a special multi-talented resident with either scissors or a paint brush (or both) in her hand. Say "ahh...." when you read the stories about how some of our Riverhill residents first met and decided to tie the knot.
Click the cover image to your left to read the full issue online.
Advertise With Us