Welcome to the Riverhill POA
We are a voluntary HOA serving the Riverhill Community. Our website is dedicated to keeping our members informed and involved in our efforts. Please use the links at the top of this page for community information, contact instructions, and important forms and regulations.
Join Us
Make your voice heard and stay up to date with the Riverhill POA.
Our group protects the quality of life and the community for all Riverhill property owners.
Riverhill Traffic Committee
As we prepare to address the Riverhill traffic situation, a number of documents and steps have been taken. In addition, a unique email ([email protected]) has been set up to facilitate communication. The button below can provide access to documents and information related to these efforts now and moving forward.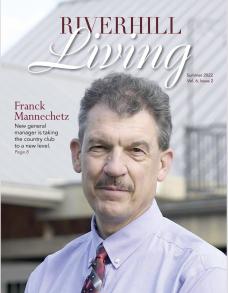 Riverhill Living
A unique lifestyle magazine for Riverhill residents
The new edition is here! Wonderful stories and pictures, including an interview with the Riverhill Country Club General Manager. See what's happening in Riverhill
Click the cover image to your left to read the full issue online.
Advertise With Us