Special Members Meeting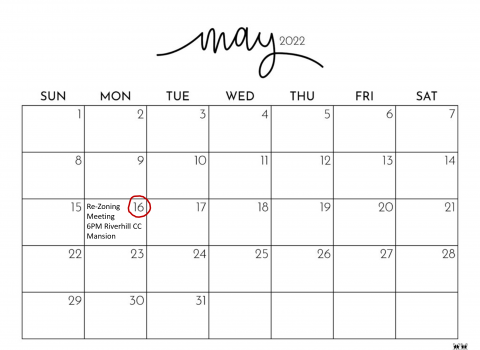 Special Members Meeting Concerning Re-Zoning & Development
Bill White & Doug Holmes (President and ACC Chair respectively) have been doing a lot of legwork concerning the proposed development south of Riverhill on Highway 16. While this proposed development does not directly affect the Riverhill properties, it will definitely have an impact on the amount of traffic on Riverhill Blvd.
In accordance with our by-laws, the board has decided to hold a special all members meeting on Monday, May 16th, at 6PM. The meeting will be held at the Riverhill CC mansion, and all members and prospective members are encouraged to attend.

Bill will be providing an update on actions taken to date, the present status of the re-zoning, and suggested actions going forward. Note that this meeting will be held shortly before the first city council meeting following the city election, and it is expected that this re-zoning request will be on the agenda. Please join us for this important meeting.
The documents below cover the details we have at this point.
As always, you can reach us at [email protected]
---